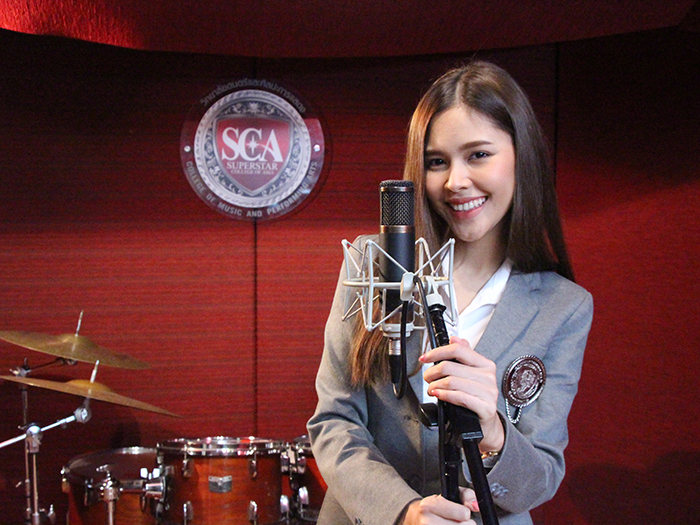 Music and performing arts  singing and music technology major bachelor's degree
Name of the courses
Bachelor of Fine and Applied Arts in Music and Performing Arts
Degree name
Bachelor of Fine and Applied Arts in Music and Performing Arts Acronym of degree : B.F.A. (Music and Performing Arts)
Music group
Voice Performance and Music Technology
Number of credits taken throughout the course 135 credits
It is divided into general education courses with 33 credits, specialization courses with 96 credits, and  elective courses with 6 credits.
Achievements
We aspire to provide graduates with knowledge and understanding of the music profession by encouraging and encouraging learners to practice and participate in the activities of the artist industry both inside and outside the institute,which would help the graduates to become proficient in various skills and be ready to enter the entertainment and music business after graduation. We will focus on developing learners to be knowledgeable and competent in all areas,to be ready to become an artist, singer and musicians who are qualified and able to manage their own careers. Students will learn to improve their singing or playing instruments skills and  also perform in both the form of singing solo and performing in a band every semester and learn how to design an artist's image and behavior, in order to be successful in the industry, composing and producing music by him/herself. Understanding the music business and copyright laws, Contracting of various music labels, Marketing to promote their work through various media ,management of concert arrangements and distribution of music both physically and digitally. In addition, students will prepare themselves for the ASEAN Economic Society with a course on international economics, learn english and choose to study a second foreign language such as Korean, Japanese, Chinese, Malaysian, Burmese, Indonesian and internships with entertainment organizations in the final year before graduating.
Jobs that could be applied after graduation
Musician, Artist, singer, producer, music director, actor,  music composer recording studio supervisor sound mixer Mastering Supervisor, Music producer, music teacher, and other professions related such as Businessman in the entertainment industry, Marketer in the entertainment industry, Performance and music manager, Organizers of music and performance academies and academics.
Samples of some courses
Bachelor of Fine Arts Music program Bachelor's degree 4 years

History of Performing Arts

Music History 1 – 2

Entertainment Industry Studies

International Music Industry Studies

Entertainment Business Law

Entertainment Seminar

Introduction to Music Research

Artists' Ethics, Attitude, and Image

Artist Project

Online Music Showcase

Concert Management

ASEAN in the Modern World

Principles of Economics and Philosophy of Sufficiency Economy

Music Theory 1 – 3

Ear Training & Sight-Reading 1 – 4

Keyboard Proficiency 1 – 3

Music Composition

Contemporary Music Arrangement

Studio Recording Techniques

Mixing Techniques

Mastering Techniques

Music Pedagogy 1 – 2

Basic Voice

Basic Acting

Basic Dance

Vocal Performance 1 – 7  Music Performance 1 – 7 Instruments are by choice

Ensemble 1 – 7
Qualifications of applicants for the entrance examination
Bachelor of Fine Arts Program Music Bachelor's degree 4 years, accepting Thai students and international students who can use the Thai language fluently. 

Graduated from high school or equivalent or currently studying in the final year of high school or equivalent and expected to graduate

Have a cumulative grade point average (GPA) of not less than 2.00

have the ability to sing

Basic knowledge of western music theory

have audio-visual skills in music

well-behaved and does not have sickness that interferes with music education
---