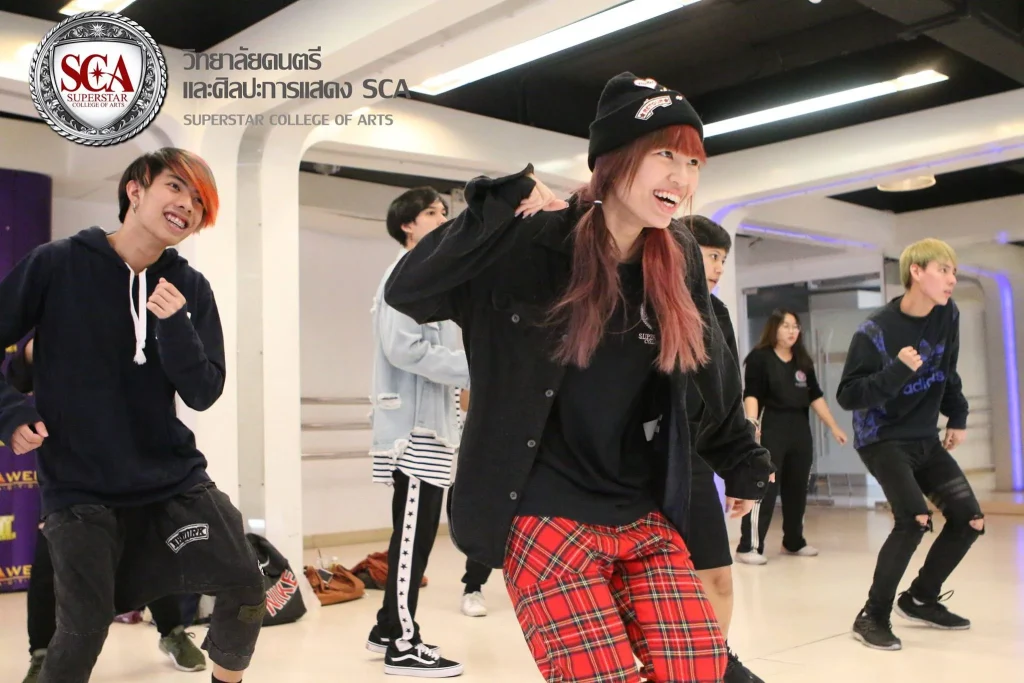 Course name
ภาษาไทย: หลักสูตรมัธยมศึกษาตอนปลาย สาขาวิชาการแสดงเต้น
ภาษาอังกฤษ: UPPER SECONDARY CERTIFICATE IN DANCE
Target audience
Students interested in studying in the Faculty of Fine and Applied Arts, Communication Arts, Music, and Performing Arts which are numerous and growing rapidly nowadays and these branches Many disciplines use a direct entrance exam with a competency test (audition), which requires preparation with specialized knowledge.
Students who wish to pursue a career in the music or entertainment industry, whether in the foreground or behind the scenes.
There is a Career Center where students can find employment in the industry during their studies. Including the accumulation of experience to prepare before entering the industry
Students in the music or entertainment industry In which students will acquire knowledge that can be used in practice to extend their career.
Recruiting students
Secondary school qualification 3 or equivalent in order to enter Secondary 4
Secondary school 4th grade or equivalent to enter Secondary 5 (Female only)
Course Highlights
A course of instruction that prepares students Knowledge and expertise both academically and professionally, including language readiness This will give students the ability to compete both academically and professionally. including competitive examinations for university entrance into higher education
Supported by a university upon completion of high school Students taking this course can go on to a bachelor's degree at the Superstar College of Arts without audition. The subject areas to choose from are as follows:

Bachelor of Fine Arts in Music
Bachelor of Fine Arts Music Education
Bachelor of Fine Arts Performing Arts Television and Film Acting
Bachelor of Fine Arts Performing Arts Musical Theater
Bachelor of Fine Arts Marketing Communication and Entertainment Business Administration

This course is suitable for artists in the industry who have to work during their studies. They can give leave to study if they have to work in the industry. and teach what can be applied in the profession
Taught by more than 100 artist teachers or trainers, both Thai and foreign artists, guaranteeing their teaching by making artists in Thailand to be national Superstars.
There is a specific practice uniform to practice being an artist. and can freely set the hairstyle and hair color for the image of an artist
All students will attend the seminar in the subject. ENTERTAINMENT SEMINAR every month by inviting successful people in the entertainment industry to pass on their knowledge to students such as Khun Pete Thongchua, Mr. Jason, the executive of the Believe Record record label, You2Play.com, Toh Marut, a local drama organizer. Page of Thailand, Mr. Kipper Producer of Sting Grammy Awards, Pod Thanachai, singer-songwriter, Kong Piya, Drama Producer, Actor, Ananda, Drama Producer, Actor, Moss Patiparn, Artist, Singer and Actor, Koh Saxman, Artist, Musician, Producer, Khemmathat Executive VIP MCOT, Burin Groove Rider r Singer artist, Coco Lee's Mr. Henrik Producer, etc. This will be an addition to the normal course at no additional cost.
All students will attend the Master Class Workshop, where talented music and performing arts teachers with national or global performance will be invited to share their experiences and expertise with students. This will be a course in addition to studying the normal course without additional cost.
Off-site activities It will be an experience of performing music and performing outside the venue to give students self-confidence and build a portfolio from the beginning. The Superstar Mini Concert will be held at leading department stores in Bangkok. and exhibiting exams in public places such as Route66, Major Ratchayothin, Farabella Shop, Holland Brewery or Parking Toys, etc.
For music students Students will create their own Single by a professional Producer teacher. for acting students will produce a short film or a short drama together with a teacher who is a drama/film director professional To be a portfolio (Porfolio) for use in applying for admission to higher education. or selected to be affiliated in the entertainment industry
Students will be provided with quality music equipment, Mac computers, professional recording studios, nearly 60 soundproofed studio rooms of international standards.
There is a Career Center to find jobs for students from their studies, such as advertising jobs, events, music competitions, casting jobs, etc.
List of specialization subjects that students will study in addition to general subjects in the field of Dance
Dance Show 1-6
Dancing for Communication 1-3
Singing for Communication 1
Music technology for dance performances
Television show media
Singing and dancing show 1-2
Movie show media
Music video show media
Design of art elements for media 1-2
Musical theater media