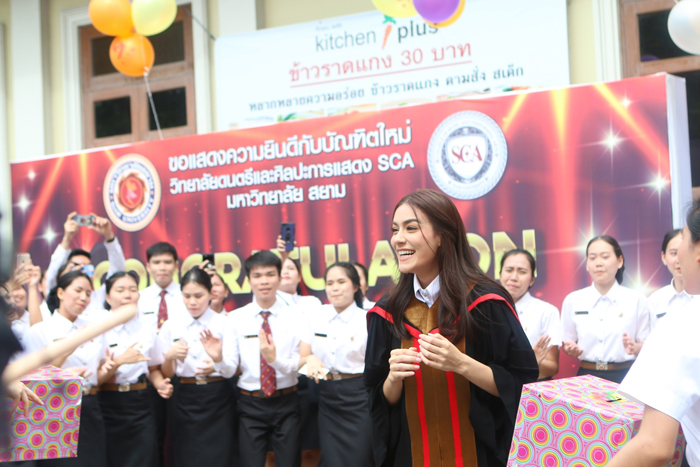 Music and Performing Arts Major in Innovation, Marketing Communication and Entertainment Business Administration Undergraduate
course name
Bachelor of Fine and Applied Arts in Music and Performing Arts
Degree name
Bachelor of Fine and Applied Arts in Music and Performing Arts Acronym of degree : B.F.A. (Music and Performing Arts)
Number of credits taken throughout the course: 128 credits
It is divided into general education courses 33 credits, specialization courses 89 credits, and elective courses 6 credits.
Achievements
We aspire to develop learners to be knowledgeable and competent in all areas. In order to be ready to become personnel in the business and entertainment industry with quality, students will learn to design images for artists and actors under the agency. Product design in the entertainment industry understanding of laws related to communication and entertainment industry various marketing Management of various organizations related to the entertainment industry such as Music camps, drama camps, movie camps, recording studios Music and acting schools, commercial production companies and commercial background music and to provide students with a true understanding of the skills of entertainment. To have an understanding of working with artists in various fields and fields.Students will have preliminary training in singing, dancing and acting skills as well In addition, students will also learn the skills of communication with entertainment media in all aspects, including sports media and educational media with entertainment media. Students will also prepare themselves for the ASEAN Economic Society with a course on international economics, learn english and choose to study a second foreign language such as Korean, Japanese, Chinese, Malaysian, Burmese, Indonesian and internships with entertainment organizations in the final year before graduating.
Jobs that could be applied after graduation
Marketer using entertainment media Artist managers, singers, musicians, actors, professional athletes, corporate public relations officers Producers of various entertainment media , Sports media and educational media with entertainment media and entertainment businessmen in various fields such as Business under music, TV series, stage plays, musicals, movies, under the supervision of singers, musicians, actors, professional athletes, School of Music and Performing Arts. Production and public relations for music and music videos, productions, advertisements, productions, entertainment media, Executive Producer, music or movies. and other occupations related. 
Samples of some courses
Bachelor of Fine Arts Program Major in Innovation, Marketing Communication and Entertainment Business Administration Bachelor's degree 4 years

entertainment business

International entertainment business

entertainment business law

entertainment industry seminar

artist project

performing arts history

international show industry

Management of sports media and entertainment learning materials

Entertainment business presentation and negotiation skills

principles of entertainment business communication

performance art criticism

Principles of entertainment business marketing

Principles of public relations for entertainment business

Principles of brand communication with entertainment media

Principles of advertising with entertainment media

Internet Marketing Communication

Performance management

Laws and Codes of Conduct for Entertainment Business Communications

The production process of the show

Communication and Hosting

preliminary chorus

introductory dance

Introduction to theatrical performances

introductory film show

Introduction to Television Drama
Qualifications of applicants for the entrance examination
Bachelor of Fine Arts Program Major in Innovation, Marketing Communication and Entertainment Business Administration Bachelor's degree 4 years, accepting Thai students and international students who can use the Thai language fluently.

Graduated from high school or equivalent or currently studying in the final year of high school or equivalent and expected to graduate

Have a cumulative grade point average (GPA) of not less than 2.00

well-behaved and does not have sickness that interferes with Performing arts education